It's a dirty job, and Five Star Janitorial Services Inc. has loved doing it for 30 years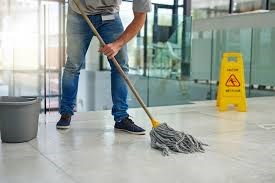 Whatever you do in life, don't do it with a lick and a promise.
The saying goes, a lick and a promise, means doing something with minimal effort.
Sean Dube, owner of Five Star Janitorial Services Inc. in Greater Sudbury, said he learned from his father at a young age to do nothing in life with a lick and a promise. It's a lesson he's built his business model around, and it seems like a winning attitude, as the company recently celebrated its 30th anniversary.
Five Star Janitorial Services Inc. celebrated its milestone anniversary on June 21.
Dube looked back on the past three decades, expressing his gratitude to past and present customers for their business and loyalty.
"Being in business for 30 years is quite an accomplishment," Dube said.
Thirty years ago, Dube got into cleaning by washing windows.
He said he always wanted to work for himself, and one day he was driving and saw someone cleaning the windows outside a commercial building.
"I thought, 'I'm pretty sure I can do this,'" he said.
That summer, Dube started cleaning windows. Business was good, then a family friend who owned a business hired Dube to clean the windows. It just took off from there.
Today, Dube has a team of 15 people. Although window washing is no longer their priority, Five Star Janitorial Services Inc. is in the business of cleaning commercial buildings, and business is doing well, Dube said.
"We mainly do light commercial office cleaning," he said. "That's not to say we've had our ups and downs, but we've been very consistent over the years with sales and customers, some of whom have been with us for 26 years."
What sets Five Star apart from other commercial cleaners is the company's attention to detail.
"We're extremely detail-oriented," Dube said. "It is my responsibility to ensure that our staff provide the quality service that our customers have come to expect from us, quality service that our customers deserve and desire."